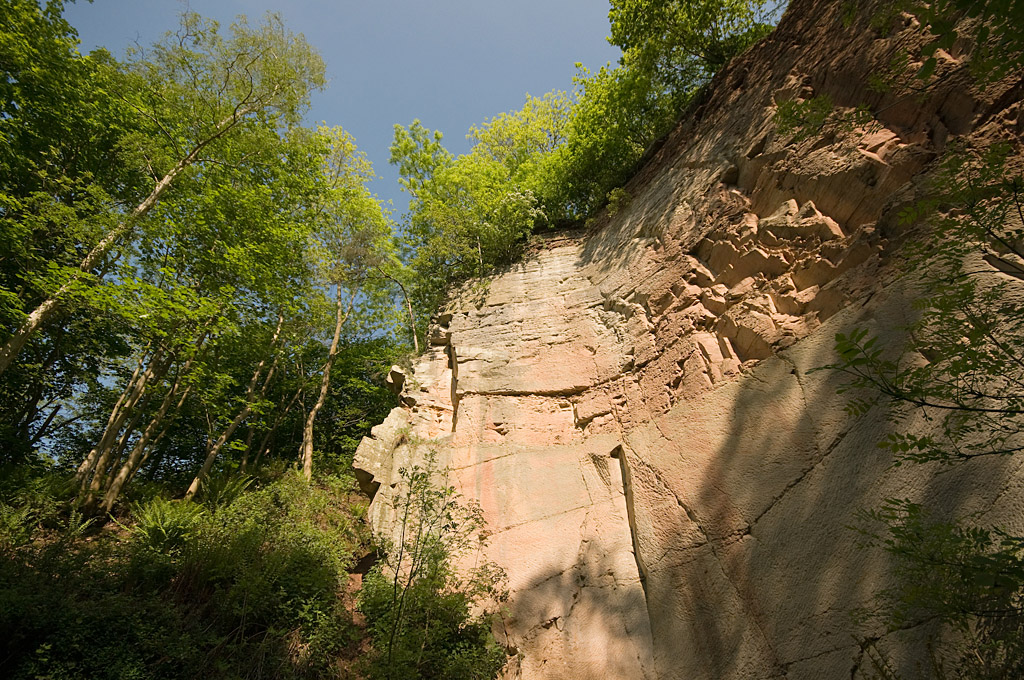 Grinshill Quarry
Stage 11: Haughmond to Wem

January2023 Warning of path flooding near Astley. The path from Astley village to the A49 is only passable with wellington boots. The minor road to Hadnall is an alternative.

You now proceed across the Shropshire Plain with Grinshill being the only hill to climb. The fine white sandstone found here has been used for many of Shropshire's churches. In the Triassic period it was once the home of the Rynchosaurus whose footprints are beautifully preserved in the working quarry.
This stage can be divided by using Yorton railway station for trains between Wem and Shrewsbury.
Warning of difficulty near Wem and a way round the crops:
Heading North to Wem near grid reference SJ 512/267 by Trench Hall school, follow the path through the crop, turn right on the rough soil patch. In a short distance you will see tractor tracks on your left follow these and it's an easy walk to the Wem end of the field.
Heading South from grid reference SJ 512/271, walk a short way into the field, turn left onto the tractor tracks follow them turning right up the field. When you've passed the school turn right on the rough soil patch for a short distance untill you see the path through the crop.

Approaching Wem at Tilley SJ510278 there is an alternative to walking along the B5476. Cross the road, take the footpath and minor roads to the river Roden. Follow the riverside path towards Wem.
You are strongly advised to take an OS map and/or a GPS to walk the route. Please note the digital OS maps will show the new Main Route from January 2019.