The Path

The Shropshire Way Main Route covers the north and south of the county and forms a "figure of eight" centring on Shrewsbury. The north and south sections are each divided into stages, each of which can be walked in a day. You may wish to devise your own stages depending on how far you can comfortably walk.
There is a downloadable leaflet and gpx file for each stage. This will give you a brief description of your day's walk highlighting interesting places and features. It also includes a map of the stage and its relative position on the path. Any problems or temporary diversions will be posted on these pages so do check before you go!
The leaflets do not provide step by step directions and you will need to follow an Ordnance Survey map. A guide to the appropriate maps is given on the web page for each stage. From January 2019 digital OS maps will show only the Shropshire Way Main Route but printed maps will be changed as updated versions are issued. Please cross check with this website for the correct route.

The Cicerone Guidebook was published in 2019. If you are local to Shrewsbury ring 01743 247404 to buy a copy. To order by post click the book.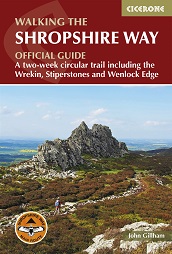 The Terrain
The walk is on footpaths, bridleways, quiet lanes and occassionally busier roads. There are canal towpaths, steep hills and rocky paths. Most of the route is on footpaths which are not suitable for bicycles. There are many gates and stiles some of which could be challenging for larger dogs. In summer time the arable fields can be difficult even though farmers are requested to leave a broad path through crops. Our voluntary champions try to keep narrow paths clear of overgrowth but remember that the appeal is that Shropshire is a rural county.
Please observe the Countryside Code when walking the Shropshire Way.
You will meet animals on the pastures. Here are some guidelines if you are nervous of cows. Most importantly give them plenty of space.
Try to avoid getting between cows and their calves
Move quickly and quietly, and if possible walk around the herd
If cattle are blocking a path through a field, you're well within your rights to find a safe way, away from the path to avoid them
If you have a dog, keep it close, on a short lead, and under effective control
Don't hang onto your dog if you are threatened by cattle - let it go as the cattle will chase the dog and not you
Don't put yourself at risk by walking close to cattle
Don't panic or run – most cattle will stop before they reach you; if they follow just walk on quietly
More details are available by following the link to the Countryside Code above.